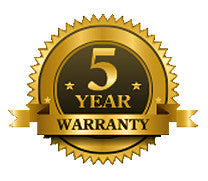 5 Year Warranty (520)
5-Year Extended Warranty Protection for Model 520
At CopperMine, we strive to deliver the highest level of customer satisfaction to you, our customer. Our interest in your machine does not stop at its sale, rather, it continues throughout its warranty period and beyond. CopperMine is aware that you may be concerned with the life of your newly purchased machine, which is why we are offering our customers this exclusive 5 Year Extended Warranty!
CopperMine warrants, to the original purchaser only, that this machine is free from defects in materials and workmanshipⱡ.
Exclusively for CopperMine Model 520

Duration: 5 Years (from purchase date)

Coverage: All components excluding blades (belts are covered, as well)

50% Off on Blade Purchase: Enjoy half price plus Free Shipping on replacement blade purchases
This comprehensive warranty protects the entire machine (excluding the blades). This includes defects to the belts, motor, pulleys, frame, shafts, capacitors, bearings or any other parts that are defective. To take advantage of this warranty the defective parts must be returned to our facility, with shipping costs prepaid, and CopperMine will be responsible for shipping your repaired or replacement parts back to you, at no cost.
Also, with the purchase of this warranty you, our customer, are guaranteed 50% off the sale price of any replacement blades for the next 5 Years. You will never need to pay any shipping and handling fees.
---
Share this Product
---
More from this collection